Testimonials
"Being part of the management team at Whole Circle Farm was one of the most fulfilling times in my life.  The farm is peaceful and beautiful, and seems to attract lovely people year after year (in fact, I met my husband there and we celebrated our wedding at the farm!)
Maggie and Johann are incredibly warm and generous, and they have so much practical knowledge to share about farming since they've done it all their lives.  They love to teach but they also love to learn: I'm always impressed by their openness to ideas and their ability to weave together traditional farming methods with new ideas from employees and interns, resulting in truly amazing food every season!  At Whole Circle, I always felt like I was part of an incredibly caring, down-to-earth, supportive family.
For the past four seasons, I was a supporting farmer at a farm on Vancouver Island where my husband was the Farm Manager.  A lot of the things that we learned at Whole Circle were invaluable in terms of getting the new farm running smoothly within the first season.  Maggie and Johann continue to support us and we are so grateful to them for all that they've given us over the years."
Jocelyn Leney, Garden Manager, 2012-13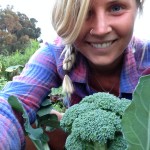 "The word that so perfectly describes my experience at Whole Circle Farm is Love. True, pure, blissful Love! The months I worked & lived on Whole Circle was the most transformative period of my life. Not only did I learn a tremendous amount about farming & what it takes to run my own farm but the incredible support I received from Maggie & Johann & management was unsurpassable. The Whole Circle community that cultivates such pure love & support is unlike any other I have experienced; it can be felt in everything from the land, the food, the animals & the people. I am honored and delighted that Whole Circle has played such a significant role in my farming journey!"
Kristen is farming in Southwest Wisconsin, both on an established organic farm, as well on her parents' land.
Kristen Martinek, Garden Apprentice 2012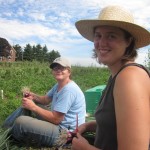 a"My time at Whole Circle Farm as a garden apprentice was wonderful for a whole host of reasons including a great feeling of community, amazing and abundant food and last but certainly not least, a real dedication to giving the apprentices both a hands on and a theoretical knowledge of farming. This commitment to our education is demonstrated in the well-thought-out learning modules that ranged in topic from 'A One Acre CSA' to 'Crop Planning' to 'Deep Soil Science' to 'Preserving' to 'Grain' to 'Chicken Slaughter'. "
Sylvia is continuing her farming journey at Hawthorne Valley Farm as an intern in the Visiting Students Program where she is pursuing her love of education and farming.
Sylvia Chomko, Garden Apprentice 2011
a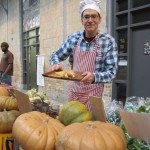 a
"My overall remarkable experience at Whole Circle Farm has helped to shape who I am today, in a way that I could not have got from any other endeavor I've had, be it travel, business, formal education, or otherwise."
Peter continues to grow garlic at Whole Circle and has since spearheaded the Toronto Garlic Festival, maintaining the role of Festival Director. Peter also helped  to initiated and manages the Aberfoyle Farmer's Market.
Peter McClusky, Garden Apprentice 2010
aa
a
a
"What I learned from working at Whole Circle cannot likely be duplicated anywhere else.  The skills and knowledge that these two lifelong farmers and experts in self-sufficiency have and are willing to pass on are truly rare and Maggie and Johann share them with incredible openness and generosity. My experiences at Whole Circle have taught me to be an intuitive and open-minded farmer and one who is aware of the holistic nature of a farm."
Leslie Moskovits, Garden Manager 2005-2008
Johann and Maggie have a huge store of skills and knowledge built over a lifetime of farming. Having been involved in large scale, conventional agriculture in the past, and being one of the first few pioneers to start developing a truly sustainable agriculture in Southern Ontario, gives Maggie and Johann an intimate understanding of growing good food. One of the things that I really value from my time with Maggie and Johann was learning how to fix and create farming equipment. We learned how to be frugal, creative, and skillful both in the home economy and on the farm."
Jeff Boesch, Garden Manager 2005-2008
Jeff and Leslie own and operate their own farm, Cedar Down Farm in Neustadt, Ontario.
a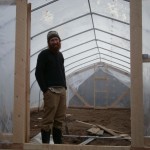 a
"My time at Whole Circle Farm built up the confidence and knowledge for me to become a farmer. I had little experience, but lots of interest and passion, and Whole Circle Farm was a great place for me to channel that and cultivate the skills to allow me to progress further. Johann and Maggie create a unique experience, offering a lot of room for learning, and really get into what it means to live on the land. Their experience, passion and love for the land and what they do is a wonderful resource and source of inspiration."
Bryan Dyck, Garden Apprentice 2008, Garden Manager 2009
Bryan and his partner Shannon own and operate their own farm, Broadfork Farm in Nova Scotia.