Visiting the Farm
We are very proud of our farm and anyone is welcome to visit our farm anytime! Feel free to come and give yourself a self-guided tour of our garden, say "hello" to the animals (from behind the fence, please!), and visit our 24/7 self-serve Farm Store. We just ask that you find one of us if you want to take a walk beyond the parking lot and barn area, as we are a working farm and we can let you know where to go to avoid tractors and electric fences!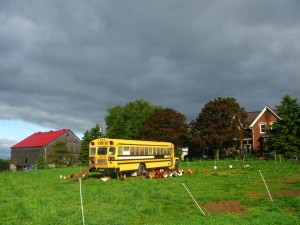 How to Find Us
We are located in a beautiful area between Rockwood and Acton, about 20 minutes East of Guelph at 8786 Wellington Road 50, Acton, Ontario.
Look for our big red roofed barn!

From Guelph: take Hwy 7 North to Rockwood, follow #7 to Harris St, turn East onto Harris St. (Wellington Rd 50) for 5kms. Our farm is on the left.
From Acton: take 25 North for 5kms, turn left onto Wellington Rd 50. Our farm is on the right.
(If you are using a GPS, type in "Erin" instead of "Acton"!)