Internships
Internship Program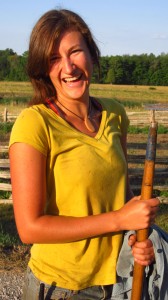 The files below are in ADOBE READER format, to view please download the file and then open
Apprenticeship or Internship?
For two seasons Whole Circle experimented with an 'Apprenticeship Program' in the market garden operation. The program utilised intense in-field training, hands-on management training and in-depth classroom setting lectures. The program was wildly successful in its goal of graduating knowledgeable and confident 'new farmers' with detailed garden management skills. However, the intensity of the garden apprenticeship hindered participation in the diverse activities of our farm. Therefore, for 2013 we have decided to change the apprenticeship program to a holistic internship, giving participants a more integrated view of Whole Circle Farm rather than an excessive focus on one part of the farm.
2013 Internship Program Brief
Our goal at Whole Circle is to have a
training program that fulfills the needs of trainees for high quality education within a diverse farm organism and the sustainability of that farm organism, both financial and spiritual.
Our intensive internship program is designed to generate knowledgeable and confident 'new farmers'. We will offer internships to those who have demonstrated an interest in, and shown dedication to being students and practitioners of sustainable agriculture. This is a farmer training position – if you are looking to learn how to farm, not just how to go out and hoe, this is the place for you.
We are a 200-acre biodynamic farm which includes an 8 acre market garden, 35 acres of field crops, 50 acres of bush, and 100 acres of hay. In addition to running an almost year-round CSA, we also raise beef and dairy cattle, chickens, and heritage pigs. We sell both through our farm store and the Georgetown and Wychwood Barns Farmers' Markets as well as a restaurant in Guelph.
We provide a diverse, comprehensive, year-round
experience of our farm from the inside out. In early spring, we begin with tapping for maple syrup and work on the garden seedlings in the greenhouse followed by the yearly ebb and flow of marketing, greenhouse management, raising of livestock, working the field, selling produce, making compost & biodynamic prep applications, food preservation, storing root veggies for winter, growing greens in cold greenhouses over winter, sprouting, building and tractor maintenance.
The internship is, at its core, a working-learning experience. Our primary method for teaching how to manage a farm is to give you skills and have you perform tasks within our farm system. Our program is designed to move dedicated candidates towards farm management and/or ownership.
Communal Living

We grow food in community at Whole Circle Farm, we are a traditional farm family with a modern twist – we have a "mom" and a "dad" and their dozen "children" eager to work and play on the farm – the only difference is that none of us are related! We have worked very hard over the past few years on fulfilling the needs of all our 'family' members and have been very successful at it (i.e. we have 8 farmers returning this year, many heading into their third season (Abhi is heading into his fifth season with the farm,starting out as an intern in 2009))!
Our high rate of farmer retention is no fluke: as a community we have chosen to invest the time in building and maintaining communicative relationships. We utilise a process called nonviolent communication regardless of topic (i.e. vehicle use, inviting guests or dealing with deep interpersonal conflicts). To find the time to communicate we have chosen to take time when we could be working to meet on Monday mornings. If you choose to join our farm family then you are committing yourself to attending these non-work meetings and participating actively in nonviolent communication for the benefit and growth of the farm community.
Other Internship Details
We work as natural light permits, however, at its peak the work schedule is Monday 1pm-6pm, Tuesday through Friday, 6am – 6pm (with breaks for breakfast and lunch) and Saturdays from 6am until noon.
All interns also take part in a rotating chore schedule, with responsibilities usually one weekend out of three. The internship begins March 1st (however, two interns will start April 1st and May 1st) and concludes December 1st. A stipend of $200/mo is provided, as well as housing, food, shared access to the farm vehicle, and a completion bonus of a winter share and a share of the revenue (percentage determined by the experience being brought to the farm by the intern).
All interns may take part in the CRAFT program, which offers visits to a wide variety of organic and biodynamic farms in Southwestern Ontario for in-depth tours. At these visits, interns from all participating farms will gather and have a chance to be introduced to different techniques from market gardeners, CSA growers, dairy farmers, and orchardists. There is also a wide array of relevant resources in the immediate area including an agricultural university (the University of Guelph), as well as many working farms.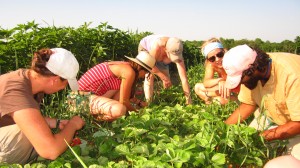 Anyone with a serious interest in agriculture and the physical ability to work the long hours of a farming schedule will be considered. To apply, fill out the application below and send to Whole Circle Farm by mail or email. All interested applicants are encouraged to set up a time to visit and work on the farm. All hiring decisions will be made on a first come, first serve basis. If you are interested in learning more please download the PDF forms below:
The files below are in ADOBE READER format, to view please download the file and then open
Feel free to contact us for more information:
Email: wholecirclefarmcsa at  gmail dot com
Ph.: 519.856.1384
Supplemental Educational Resources
Many of our apprentices utilize other regional support programs for beginning farmers. These include:

CRAFT Ontario (The Collaborative Regional Alliance for Farmer Training in Ontario): an informal, member-driven organization made up of more than a dozen southern Ontario organic farms.
FarmStart provides specialized training, and encourages new farmers to engage in entrepreneurial strategies that creatively turn challenges into opportunities.