Volunteering
Whole Circle Farm is a super fun place to volunteer!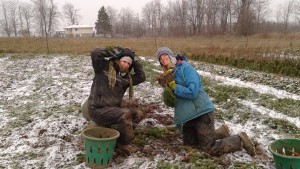 We love having volunteers on the farm. We enjoy getting to know members of our community and sharing our farming knowledge! You can volunteer with us on a casual basis – which can be a few hours here and there, up to a few days a week, or anything in between! You can also volunteer in exchange for your CSA share via our Working Share program. There's no commitment too big or too small.
What is a Working Share?
A working share CSA membership is an agreement between the farm and the CSA member where the CSA member volunteers for the farm in exchange for their weekly veggies. Here at Whole Circle Farm, we see a working share CSA membership as being a substantial commitment to the farm and our community! We will train you in a variety of seasonal tasks and assign you specific shifts during the week, based on your availability and the needs of the farm. 
If this sounds like great opportunity or you would like to find out more about volunteering, please email us at: wholecirclefarmcsa @ gmail . com
Never miss an opportunity to Volunteer with Whole Circle Farm
Subscribe to our mailing list by clicking here