Farm Store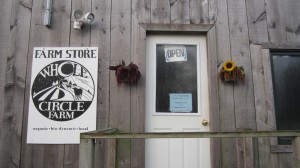 Enjoy a drive through the countryside, and stop to see what's available in our self serve farm store.
Spring, summer, fall, or winter, you will find a variety of grass-fed meat cuts in the freezer, along with other farm and local productssuch as lamb, apple butter, honey, sauerkraut, grains, and eggs. A selection of seasonal produce is also available. Feel free to call ahead to find out more!
a
Pastured Tamworth Pork: Various cuts from $5/lb
Grass-fed Beef: Various cuts from $5/lb
Pastured Lamb: From Johann's brother in Drumbo, various cuts from $6/lb
Fresh Eggs: $7/dozen – We have our own eggs available. We raise our free-range chickens using organic methods.
Organic Grains: $5 to $6/bag – Rye, Spelt, Wheat & Red Fife Wheat, available as grain berries and freshly ground flours. Customers can also grind your own flour at the farm store.