Rebecca's Southern Style Tomato Pie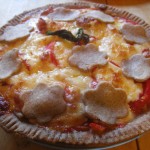 4-6 large tomatoes
1 onion, finely sliced
½ cup basil, chopped
½ cup mayonnaise
1 ¼ cup extra old cheddar cheese, grated (or any of your favourite cheeses)
One pie crust (I adapted The Joy of Cooking's "Flaky Pastry Dough" with Spelt flour):
2 1/2 -2 3/4 cups spelt flour
1 tsp salt
3/4 cup butter
1/3 cup plus 1Tbsp ice water
Cut the butter into the dry ingredients by chopping vigorously with two knives. When the mixture is dry and powdery, add ice water, and mix together, and form two balls. Refrigerate for about 30 minutes. Sprinkle spelt flour on clean surface and on rolling pin, and roll dough with rolling pin. Fit into pie pan. Use any extra dough to form cut-outs for decoration, or save for another pie.
Peel and slice tomatoes. Place in a colander with a sprinkle of salt so juice can drain.
Pre-bake pastry crust for 10 minutes in 350 oven.
Combine mayonnaise and cheese.
Place a layer of basil, a layer of onions, and a layer of tomatoes in the pie crust. Top with half the cheese mixture. Repeat layers and top with remaining cheese mixture. Decorate with a few basil leaves and any pastry cutouts as desired. Bake at 350 for about 40 minutes. Allow to sit for about 5 minutes before serving. Enjoy!
I also made a great cheese-free version with only tomatoes, onions and basil. Let us know if you try this recipe with any other alternatives – nuts? tahini? eggs?